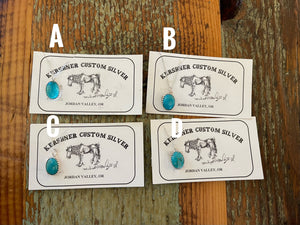 The Double J-Turquoise Pendant 10x14mm
Regular price $75.00 Sale
LARGER VERSION OF MRSJJARV. FOR THE CLASSIC NECKLACE PLEASE VIEW SEPERATE LISTING.
A larger version of the classic MrsJJarv turquoise drop pendant.
Here's the deal on these beauties. Each individual turquoise stone is GOING TO VARY. I will do my best to have photos labeled with corresponding variant, so you know exactly which turquoise piece you are purchasing. These are very unique stones. There are no two alike, although there are similarities in a few. The stones I have pictured are the necklaces available. 
All Royston turquoise, mined & processed in the US. Royston can vary from light pale blue to robin egg blue/turquoise to greens. Matrix is common throughout theses stones. I specifically picked each stone for their coloring & matrix. 
Occasionally there will be Kingman turquoise or Wild Horse in this size. 
Set in sterling silver bezel & comes with a chain. 
Each one will be approximately 10x14mm in size.
*Matrix- streaks of the host material still in the turquoise. Usually beige, tan, brown coloring in the Royston.